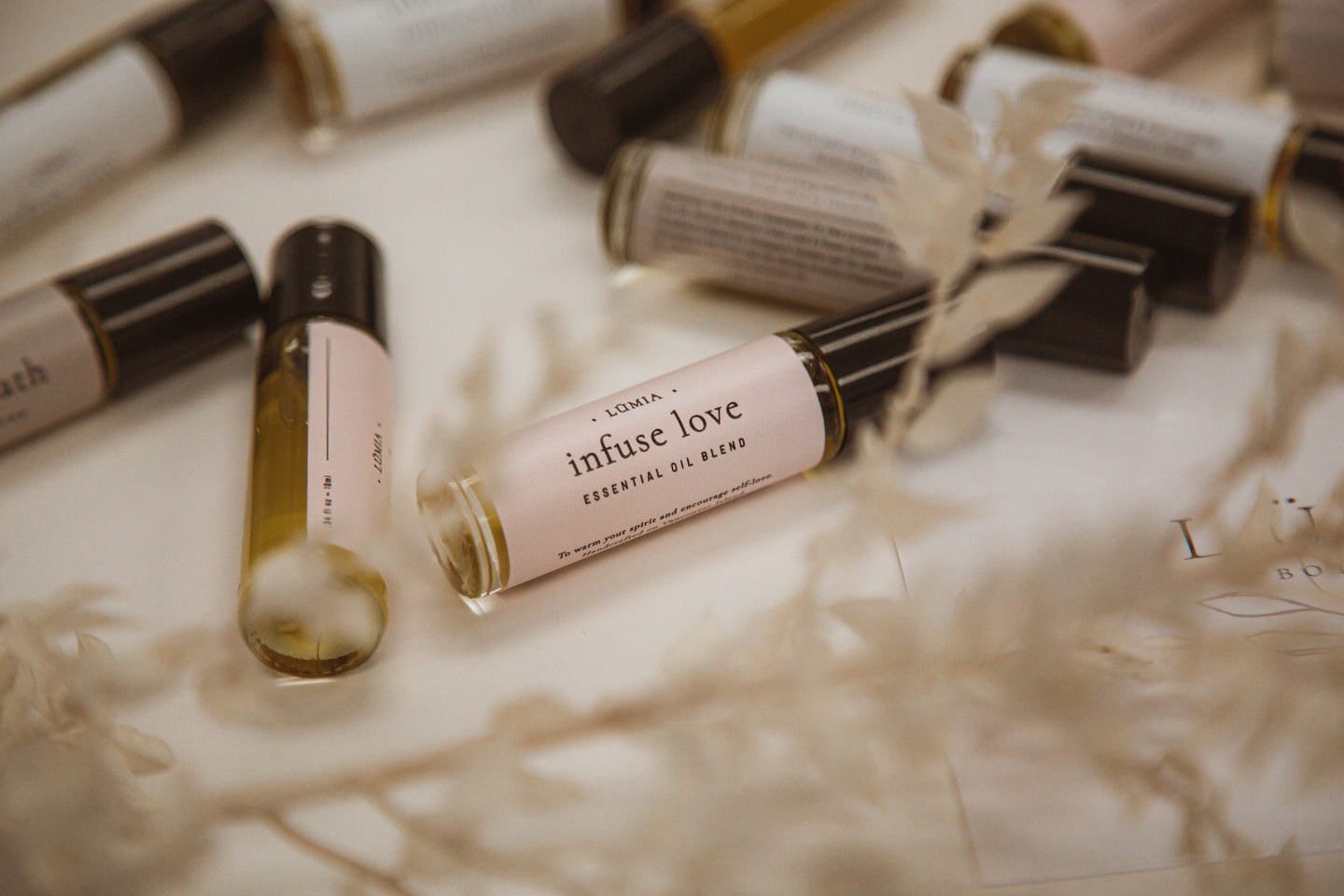 If you have had any interest in aromatherapy or essential oils in your life, you likely have heard about essential oil roll-ons. But, if you are unfamiliar with these elusive aromatherapy products, or just want to know more - you have come to the right place. Essentially, essential oil roll-ons allow you to use essential oils in a safe and sustainable way that you can take anywhere with you. Basically, like a mini diffuser on the go (except without the water)!
Roll-ons are made with - you guessed it - essential oils (EOs). Diluted in a carrier oil like coconut oil, jojoba oil, or almond oil etc., essential oils are very concentrated, therefore it is imperative to always dilute your EOs appropriately before applying them to your skin. This allows for all of those plant benefits to come through, without harsh reactions that could cause skin abrasions or worsen pre-existing skin conditions. 
The point of an aromatherapy product like this is just that, to infuse aromatherapy into your everyday life with ease and comfort. Depending on your mood, personality and lifestyle, generally folks have very different needs when it comes to choosing a roll-on to help them live their best life. For example, if you are someone with a very fiery nature, you would benefit from calming essential oil roll-ons made with sandalwood, rose and jasmine. On the flip side, if you are the type that often feels stuck, stagnant and unmotivated, you would definitely benefit from stimulating scents like sweet orange, juniper berries and rosemary.
You can apply your roll-on pretty much anywhere on the body, just be mindful to avoid sensitive areas like your eyes, underarms, and bikini area. To get the most out of your roll-on, we suggest applying them to your pulse points. This includes your wrists, behind the ears, along your neck and on the back of your knees. But again, you can pretty much apply anywhere, so why stop at the pulse points? In our use of essential oil roll-ons, we have found that applying on the temples to ease headaches, and on the tip of your nose so that every time you take a deep inhale you get hints of your roll-on scent, are also fantastic places to apply a little aromatherapy to your mind and body throughout your day.
But it doesn't end there! There are a multitude of ways that you can use and blend different oils. While our focus at Lümia Botanicals is to maintain a healthy mindset and create intentional moods, we also have a skin brightening roll-on that is intended to correct stretch marks and scarring. Though, roll-ons can be made for physical healing like relieving sore muscles and resetting your digestive system. Our Infuse Focus roll-on for instance is made to stimulate the mind and encourage productivity, but also notably can address headaches and reduce the intensity of one. 
Check out our full Infuse Collection in our online boutique! Lots more information there. But, if you have any questions, feel free to comment below! 
xo
Mia